Construction Materials Carbon Management or (CM)2 serves public and private building or nonbuilding market stakeholders who monitor carbon dioxide emissions metrics in load-bearing material procurement amid the Buy Clean, Carbon Neutrality Roadmap and Net Zero movements.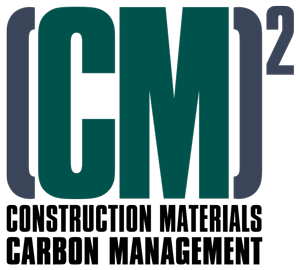 (CM)2 content centers on CO2 emissions reduction in cementitious material, concrete, and reinforcing or structural steel production, plus downstream points. Posts are mostly confined to market, regulatory or technology developments underpinned by the World Resources Institute/World Council for Sustainable Business Development-backed Greenhouse Gas Protocol and International Organization for Standardization guidelines for CO2 emissions accounting and reporting, namely:
• ISO 21930:2017 Sustainability in buildings and civil engineering works
• ISO 14025 Environmental labels and declarations
• GHG Protocol Corporate Accounting and Reporting Standard
(CM)2 focuses especially on content reflecting these metrics:
• ISO 14025-compliant environmental product declarations'
— Product stages: A1 Raw material supply; A2 Transport; A3 Manufacturing
— Construction Process stages: A4 Transport; A5 Construction/Installation

• GHG Protocol's
— Scope 1 Direct GHG Emissions
— Scope 2 Electricity Indirect Emissions
— Scope 3 Other Indirect Emissions
(CM)2 tracks construction value chain carbon management measures at the hands of:
• Privately or publicly held cement, concrete and steel producers
• State and local governments
• Environmental Protection Agency
• General Services Administration
• Departments of Defense, Energy, HUD and Transportation
industry resources
American Coal Ash Association
American Institute of Steel Construction
American Iron & Steel Institute
Carbon Leadership Forum
Concrete Reinforcing Steel Institute
National Ready Mixed Concrete Association
NEU: ACI Center for Carbon Neutrality
Portland Cement Association
Precast/Prestressed Concrete Institute
Slag Cement Association
Steel Manufacturers Association
(CM)2 is produced by Semco Publishing, the publishers of Cement Products, Concrete Products, Rock Products, North American Mining magazine, The Asia Miner, and the International Cement Seminar.