DeWalt grips carbon reduction with AI-powered ConcreteDNA tool 
Sources: Converge, London; CMCM staff
Officials of Converge, U.K. developer of artificial intelligence (AI) technology for concrete practitioners, and Stanley Black & Decker Inc. tool brand DeWalt are teaming to assist producers, engineers and contractors in portland cement-optimized mix design plus accelerated pour schedules. A partnership they announced at World of Concrete 2023, Las Vegas, will see maturity metrics from the new DeWalt Signal Sensor relayed to the cloud-enabled Converge ConcreteDNA platform.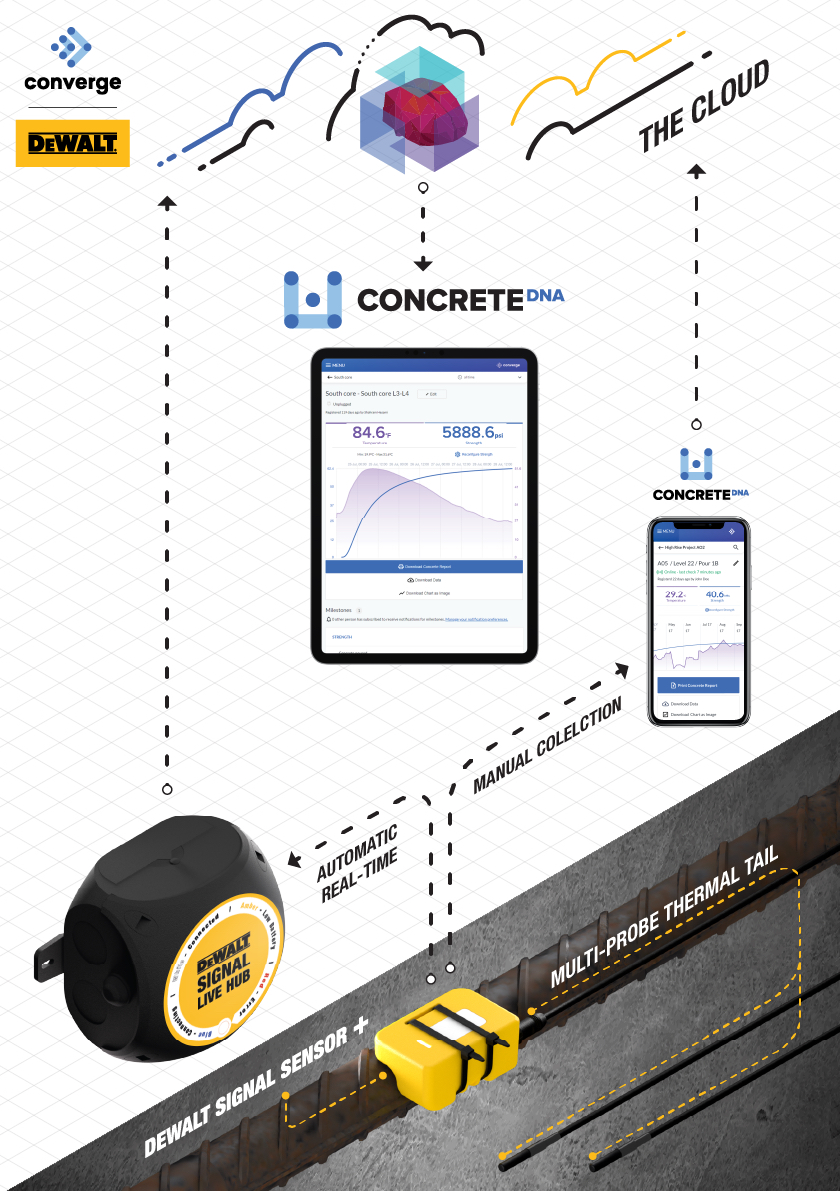 By interpreting real-time data from multi-probe, concrete-embedded Signal Sensor thermal tails, ConcreteDNA allows users to observe compressive strength development and—through advanced AI functions plus local weather condition inputs—predict when a hardening structure or slab matrix will reach a load-bearing threshold. Concrete professionals are equipped to begin work sooner, Converge programmers note, as they can "directly measure hardening, rather than relying on estimation, and tailor the exact amount of cement needed in the mixture. With deep insight into the strength of the material, lower embodied carbon concrete mixes can be produced without sacrificing performance or safety to meet jobsite deadlines."
"We believe we can bring innovative solutions to North America that allow contractors to build up to 30 percent faster, and drive concrete decarbonization to build the future more efficiently, safely, and sustainably," says Converge CEO Raphael Scheps.
"We are committed to sustainability and innovation across all job sites and trades to modernize for the next generation of work," adds Stanley Black & Decker Chief Responsibility Officer Deb Geyer. "By partnering with Converge, DeWalt is bringing a total solution to our ecosystem of concrete tools."
Related articles
Hilti phases Concrete Sensors maturity monitoring platform rollout
Investors back mix design developer AICrete with $4 million in seed capital