EV charging infrastructure concept earns AISC Forge Prize
Sources: American Institute of Steel Construction, Chicago; CMCM staff
A concept using structural steel to reinvent the gas station experience for the electric vehicle age has garnered LVL Studio, New York and Los Angeles architectural designer, the $10,000 Forge Prize from the American Institute of Steel Construction. LVL collaborators Jeffrey Lee, Christopher Taurasi and Lexi White worked with Christian Crosby, senior vice president of Arizona fabricator Schuff Steel, to refine their Electric Oasis vision and make the process of bringing it to life in steel more efficient.
Judges for Forge, an annual AISC competition for emerging architects, were impressed by the LVL Studio team's thoughtful approach, which turns a banal task into a destination event. "You've taken something very mundane that we give not a second thought to usually and injected a certain level of magic—not just waiting for the charging, but also what you can do with that time," observes Forge Prize Judge Melanie Harris, AIA, national healing practice director at BSA LifeStructures, Indianapolis. "We're all looking for efficiencies in our life these days and the last thing we want to do is wait around and do nothing while we wait for our cars to charge."
Recharge time is one of the primary differences between a gas and electric vehicle. "On average, a gas stop takes around seven minutes to refill a tank," says LVL's Lee. "A level-two charging station, which is the most common type, takes upwards of four and a half hours for a full charge. We have an opportunity to reimagine the gas station typology into something that can revitalize the local economy."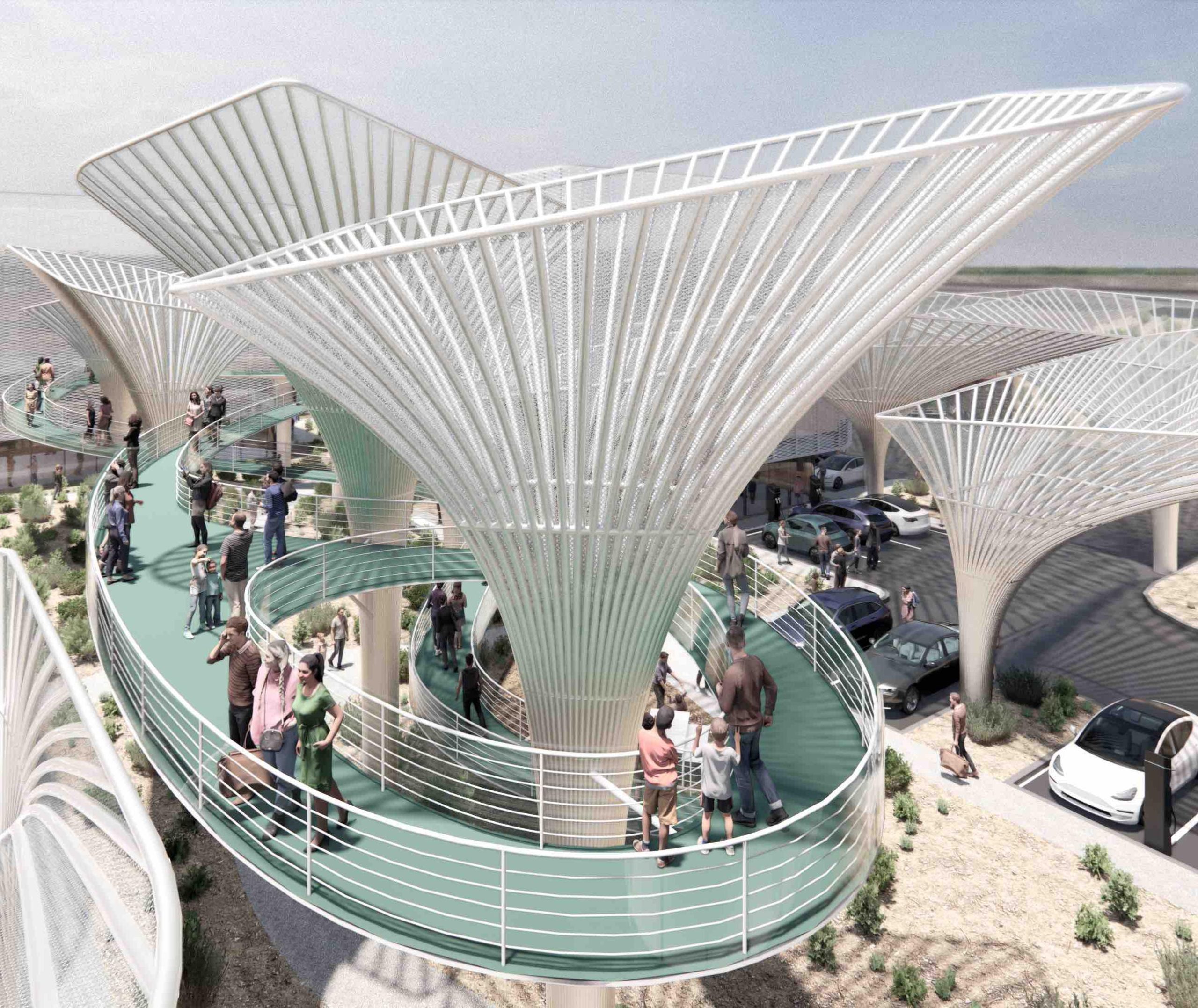 So what to do with that time? In the LVL collaborators' vision, motorists would relax, work, play, shop, or perhaps even get healthcare while their vehicles charge—all activities that offer new economic opportunities for small communities around highway interchanges. Their charging station concept is defined by striking steel canopies that offer shade. In their primary use
case, for a site within average EV range of both Los Angeles and San Francisco, a pathway winds
through the canopies, offering vistas and an engaging space in a loop that takes about 15 minutes to explore. The pathway connects buildings that would house retail and other spaces. Such hubs feature a functional steel scrim providing shade to reduce solar heat gain by up to three hours a day.