Nucor takes stake in carbon-free iron process developer Electra
Sources: Nucor Corp., Charlotte, N.C.; CM2 staff
Steel market leader Nucor Corp. has announced an equity investment in Electra, a Colorado start up seeking to scale a process for carbon-free, steel-grade iron. Tapping renewable energy sources to power electrochemical and hydrometallurgical phases, the company refines low-grade ores into high-purity iron. When used in steel milling, the latter offsets other high-quality metallics inviting higher greenhouse gas emissions.
"We are excited to partner with Electra and its revolutionary process," says Nucor CEO Leon Topalian. "Just as Nucor changed the face of the steel industry 53 years ago with our first electric arc furnace, successfully developing and scaling up a zero-carbon iron product is the type of transformative technology that could change the steel industry as we know it."
"As deployed renewable energy increases and the supply of higher-grade iron ores decreases, we see a significant opportunity to drive sustainable iron and steelmaking," adds Electra Co-Founder and CEO Sandeep Nijhawan. "Our solution to remove gigatons of carbon dioxide emissions from steel production goes hand-in-hand with Nucor's commitment to a sustainable future."
FORGING IRON AT 140°F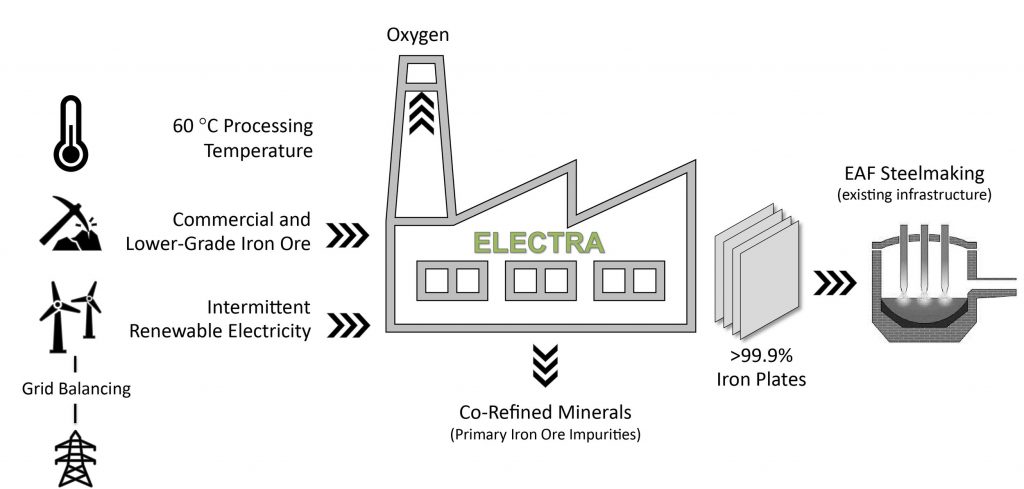 Nucor is among the world's cleanest steelmakers, management notes, owing to the use of recycled scrap as a raw material. The circular nature of remelting recycled scrap in electric arc furnaces, combined with steel's ability to be infinitely recycled, means that Nucor operations generate roughly one-third of extractive steelmaking plants's CO2. The Electra stake is among investments that furthers the producer's status as a sustainability leader.
"We are focused on investing our capital on opportunities like these that have the potential to take our company and the entire industry to the next level," affirms Nucor Executive Vice President of Raw Materials Doug Jellison, whose has joined the Electra Market Advisory Board. "We will continue to look to the future for new and innovative ways to help customers achieve their sustainability goals."