Cement substitution, solar power net Valmont 13K-ton CO2e cut 
Sources: Valmont Industries Inc., Omaha, Neb.; CP staff
The top concrete power transmission and distribution pole producer has marked an inflection point in (GHG Protocol-defined) Scope 2 and 3 emissions and (Environmental Product Declaration-cited) global warming potential metrics at its Bristol, Ind. plant. Valmont Industries' new $35 million operation is home to a 900-kilowatt solar array and serves as the springboard of an enterprise-wide, low carbon mix specification for prestressed concrete poles reaching up to 130-ft. lengths.  
Company officials hosted a mid-July dedication of the array, noting how the renewable energy infrastructure will equate to a nearly 800-ton annual reduction in carbon dioxide emissions associated with the Bristol plant's consumption of fossil fuel-powered electricity. Photovoltaic panels bear on 70 single-axis trackers from a Valmont Solar business offering the Convert solution, which harnesses up to 25 percent more energy than fixed in-place racking by following the sun for optimized generation throughout the day.

Valmont Industries teamed with Ameresco Inc., Framingham, Mass. renewable energy infrastructure specialist, for the $2.5-million facility, whose annual capacity approaches 1 million kilowatts.
Along with the array power up, Valmont executives announced the start of a 12-month migration from conventional concrete mixes, where portland cement is the primary or sole binding agent, to a new blend of (ASTM C989) slag cement and (ASTM C595) Type IL portland-limestone cement (PLC). Between Bristol and five sister pole plants in Alabama, Florida, Georgia and Texas, Valmont credits the new mix specification with an annual 12,000-ton CO2 emissions avoidance. The switch from ordinary portland cement to blended binder will net what Valmont Utility brands "eco-concrete." Engineers or quality control staff at each plant will tailor the slag cement and PLC mixes according to local aggregates, and ensure finished poles exhibit or exceed targeted strength and durability characteristics. 
"The eco-concrete utility pole product launching at the Bristol facility and its onsite solar array showcase our focus as an industrial technology company delivering disruptive technologies to lead and transform the industries we serve," says Valmont Group President, Infrastructure Aaron Schapper. "As part of the long-term need for critical infrastructure investment, we recognize the vital role transmission, distribution and substation structures will play in the energy transition super cycle as well as the importance of sustainability in the products, services and solutions we deliver."
The Bristol operation is the first concrete utility pole plant built to serve Northeast and Midwest Region customers. Like their Southeast and Sunbelt peers, utilities in colder regions are seeking alternatives to wood and steel poles—both subject to steeper price fluctuations and supply chain hitches versus concrete.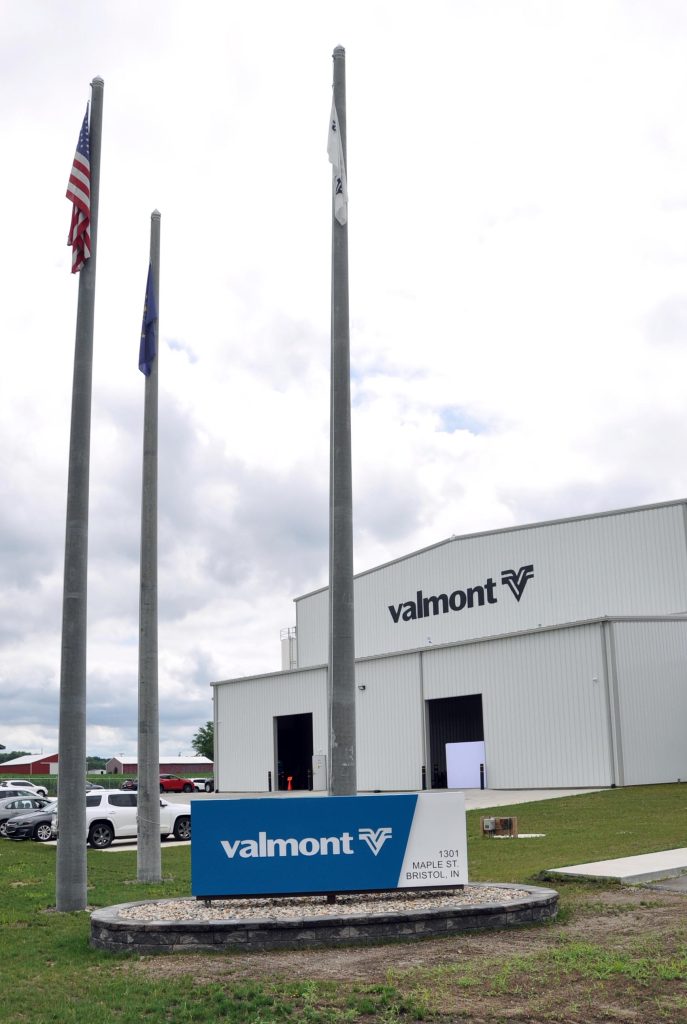 Spun prestressed concrete poles are cast horizontally in two-piece molds with low water-cement ratio mixes. The molds are subjected to robust spin cycles, yielding hollow poles and extremely dense concrete walls.